Map of Sapporo- Japan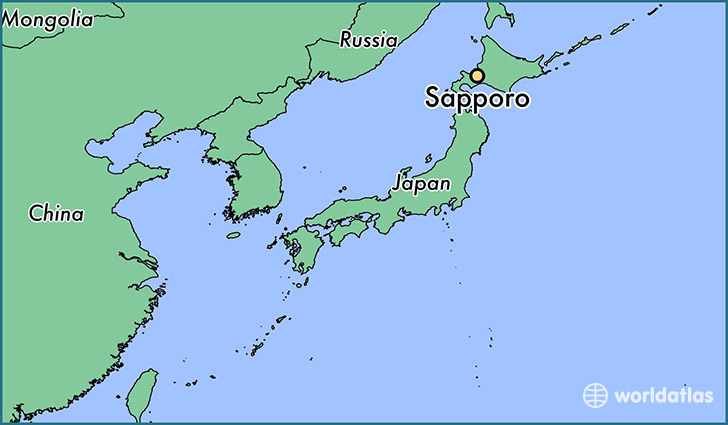 Sapporo is the fourth largest city in Japan by population, and the largest city on the northern Japanese island of Hokkaido. Located in Ishikari Subprefecture, it is the capital of Hokkaido Prefecture, and an ordinance-designated city of Japan.
Sapporo is known outside Japan for having hosted the 1972 Winter Olympics, the first ever held in Asia, and for the city's annual Yuki Matsuri, internationally referred to as the Sapporo Snow Festival, which draws more than 2 million tourists from around the world. The city is also home to Sapporo Brewery and the white chocolate biscuits called shiroi koibito.
Population: 1,953,833 (2016)
Language:
Hokkaido Japanese dialect is a dialect spoken by people from the island of Hokkaido. Most terms or words come from dialects of Tohoku, Northwestern Honshu and the Ainu language. But urban areas such as Sapporo use the standard Japanese language.
Currency
Yen(¥) is the currency used in Hokkaido and throughout Japan.
Geography
Sapporo is a city located in the southwest part of Ishikari Plain and the alluvial fan of the Toyohira River, a tributary stream of the Ishikari River. Roadways in the urban district are laid to make grid plan road. The western and southern part of Sapporo are occupied by a number of mountains including Mount Teine, Maruyama, and Mount Moiwa, as well as a lot of rivers including the Ishikari River, Toyohira River, and Sōsei River.
Sapporo has many parks, including Odori Park, which is located in the heart of the city and hosts a number of annual events and festivals throughout the year. Moerenuma Park is also one of the largest parks in Sapporo, and was constructed under the plan of Isamu Noguchi, a Japanese-American artist and landscape architect.
Neighbouring cities are Ishikari, Ebetsu, Kitahiroshima, Eniwa, Chitose, Otaru, Date, and towns are Tōbetsu, Kimobetsu, Kyōgoku.
Climate
Sapporo has a humid continental climate (Koppen Dfa), with a wide range of temperature between the summer and winter. Summers are generally warm but not humid, and winters are cold and very snowy. With an average snowfall of 5.96 m (19 ft 7 in), In spite of its latitude, Sapporo is one of the few metropolises in the world with such heavy snowfall, enabling it to hold events and festivals with snow statues and objects. The heavy snow fall is due to Siberian High developing over the Eurasian land mass and the Aleutian Low developing over the northern Pacific Ocean, resulting a flow of cold air southeastward across Tsushima Current and to west Hokkaido. The city's annual average precipitation is around 1,100 mm (43.3 in), and the mean annual temperature is 8.5 °C (47.3 °F).
Cuisine
Sapporo is known as the birthplace of miso ramen, a ramen noodle dish using miso, and Sapporo ramen is also widely known. The Kouraku Ramen Meitengai, an alley lined with many ramen restaurants, was established in 1951 in Susukino district. After its demolition due to plans for the Sapporo Olympics, the Ganso Sapporo Ramen Yokocho was established in the same place. It attracts many tourists throughout the year. From the year 1966, a food company named Sanyo Foods began to sell instant ramen under the brand name "Sapporo Ichiban." In 2001, Sapporo ramen was listed as one of the Hokkaido Heritage along with Asahikawa ramen and Hakodate ramen. On October 1, 2004, the Sapporo Ramen Republic, a theme park focused on ramen, was opened at the 10th floor of Sapporo Esta, a commercial complex in front of Sapporo Station.
Haskap, a local variety of edible honeysuckle, similar to blueberries, is unique to Sapporo. Other dishes unique to Sapporo is soup curry, a liquid curry with vegetables and chicken, and jingisukan, a barbecued lamb dish, named for Genghis Khan. Sapporo Sweets is a confectionery using many ingredients from Hokkaido and the Sapporo Sweets Competition is held annually. Sapporo is also a producer of fresh seafood including salmon, sea urchin and crab.
Transportation
Sapporo has one streetcar line, three JR Hokkaido lines, three subway lines and JR Bus, Chuo Bus and other bus lines. Sapporo Subway trains have rubber-tyred wheels.
Rapid transit
Sapporo Municipal Subway
Sapporo Streetcar
Mount Moiwa Ropeway
Teineyama Ropeway
Rail
JR Hokkaido Stations in Sapporo
Hakodate Line: (Zenibako) – Hoshimi – Hoshioki – Inaho – Teine – Inazumi Kōen – Hassamu – Hassamu Chūō – Kotoni – Sōen – Sapporo – Naebo – Shiroishi – Atsubetsu – Shinrin Kōen – (Ōasa)
Chitose Line: Heiwa – Shin Sapporo – Kami Nopporo – (Kita-Hiroshima)
Sasshō Line(Gakuentoshi Line): Sōen – Hachiken – Shinkawa – Shinkotoni – Taihei – Yurigahara – Shinoro – Takuhoku – Ainosato Kyōikudai – Ainosato Kōen – (Ishikari Futomi)
Air
The Sapporo area is served by two airports: Okadama Airport, which serves regional flights within Hokkaido, and New Chitose Airport, a larger, international airport located in the city of Chitose 30 miles (48 km) away connected by regular rapid trains taking around 40 minutes.
Airport shuttle, tour and charter bus service
An airport shuttle bus servicing all hotels in Sapporo operates every day of the year. Skybus was founded in 2005 and also provides transport to and from various ski resorts throughout Hokkaido, including Niseko.